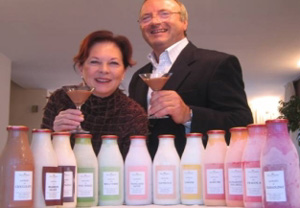 About us
Della Negra srl has been working in the confectionery market for more than two decades. Originally founded back in 1984 with the name "Mozart & Mozart" the firm changed it in the year 2000 choosing to mantain the founder's family name. From its beginning "Mozart & Mozart" has pursued the aim to produce a high quality artisan ice-cream. The first production steps however were not so simple as it might seem. Only with much tests and market researches a groving top quality product has been finally obtained. Our firm was one of the first ones that begun to sell sorbets in bottle and ready to use. Particullary appreciated by restaurants and bars which often don't have enough time to prepare them, the sorbets in bottles are also an excellent solution for all those families who would like to taste a refreshing, digestive and very very low alcoholic drink.
Why to prefer our products?
The most important thing to obtain a high quality product is to select only the best ingredients. However it is not enough. The ingredients must also be right balanced. All our products are made with attention, care, the best selected ingredients and according to our long time experience. Della Negra offers you high quality and expertise. Our excellent quality is widely recognized and has become the distinctive element of our brand.